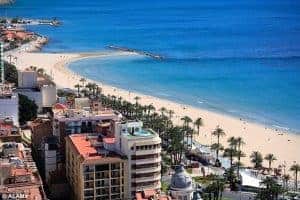 Must Do
Visit Santa Barbara Castle on the top of Mount Benacantil. You can drive up to the castle or walk, (only really recommended for the super fit or the insane in Alicante's summer heat!) but my favourite option is to take the lift accessed from opposite El Postiguet beach. It costs 2.40? to make the 142m assent and the views from the top over Alicante and the surrounding areas are spectacular.
What do you like best about your city?
Alicante has the rare pleasure of being a city on the coast so offers the best of both worlds in terms of city culture and long sandy beaches. There isn?t many places where you can shop or visit museums and then walk across the road to the beach!
Best Walk
For the best walk meander through the Old Quarter. It is know locally as El Barrio and is home to most of the city?s monuments, making it perfect for a daytime or evening exploration. I find something new each time but for those of you who prefer a more structured walk and further information, the tourist board organises free guided walks with information in English.
Best Restaurants
The Old Quarter houses some of Alicante's best kept secrets in terms of cuisine if what you are looking for that Mediterranean flair. Sea bass cooked in sea salt, suckling pig and traditional paella are all a must.
Best Music/Festival
In the summer the bandstand on the Explanada de Espa'a hosts a wide range of musical acts and impromptu performances. Alicante is also attracting more top international acts. Bryan Adams and UB40 were both in town in 2008 to mark the start of the Volvo Ocean Race.
Best Nightlife
The Port, on the Muelle de Levante Pier, is a newly built area of the marina and home to restaurants of all kinds and all manner of pubs and bars that stay open until the small hours of the morning and is a great spot to gaze and marvel at the millionaire yachts and cruisers over a cocktail or two.
Best Day Trip Out of the City
Escape the hustle and bustle for a full day?s excursion across to neighboring Tabarca Island. There are a number of companies based in the harbor offering trips across to the Island with ferry rides going every 20-30 minutes in the peak summer months costing around 15? for a return ticket.
It is a small and tranquil island perfect for snorkelling as the surrounding waters of the 2km long island were declared a national marine park in 1986.
Something that not many tourists would know about.
Alicante has its very own little Hollywood Hills; the Ciudad de la Luz. These film studios just outside the city, perched on the hill still go relatively unnoticed, but are an emerging player in the world of film which is slowly starting to put Alicante on the movie map.