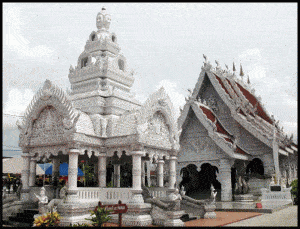 Must Do
See the sunrise from a misty mountain top.
Watch dragon boats race their way down the Nan river
Brave the currents and white water raft the Wa river.
Shop at the morning market and see the strange looking vegetables that are on sale.
Chill out at the riverside art gallery.
Bike around the rice fields and foothills that surround the town.
Learn about the towns history at the local museum.
What do you like best about your city?
The old wooden buildings, the stunning murals in Wat Pumin temple, the colourful 'dragon' boats on the river, and, most of all the peaceful atmosphere in both the town and the beautiful countryside that surrounds it.
It's a quiet place but there's a lot to see and do, both in and around the town.
Best Restaurants:
There's too many to mention. It's hard to choose which ones to recommend. For western food try Hot Bread, Tony's Place, Nan Steakhouse or the Dario Pizza restaurant.
For Thai food try Gormet (located right by the Nan river), Bor Nam, Poom 3 or 'the glass house.'
For cheap but tasty traditional northern Thai food such as nam prik (northern Thai chilli paste), sai oowa (northern style spicy sausage) and gaeng haeng lai (northern style curry) and a nice atmosphere and friendly service try Zap II.
For dessert lovers, the most amazing ice cream in town comes from Bar Min Ice cream restaurant. Sweet red sticky rice, covered with traditional thai style coconut ice cream, and topped with hot chocolate sauce is just one of their specialities.
Thai teenagers love to visit milkshake bars. They're usually stylishly designed and sell cheap shakes and snacks. There are a couple in town but the nicest by miles is 'The Milk Club.' Order a milkshake and toast topped with anything from chocolate and coconut, to chinese style pork. Once you've finished eating take a look at the coke memorobilia, the photos and paintings on the wall and the upstairs gallery.
The Best' bakery sells the best western style cakes around. Their new York cheesecake and banoffee pie can't be beat, it really lives up to its name as the best bakery in town.
In the last few years theres been an explosion of new coffee shops in town. Phu Payak and Phu Far (both selling locally grown Nan coffee) are the best. Muan Jai comes a close second.
If you're on a budget or just out to try something different there are food stalls in the morning market, that sell everything and anything from pre-packed cartons of curry and rice to fresh fruit. Try 'joke' – a thai style congee and 'cafee boran' hot Laos style coffee for breakfast.
Later in the day there's 'to rung' night market, a street where almost every stall sells food. Deep fried insects, curries, pat thai noodles, BBQ chicken, rice soups, japanese sushi and fresh fruit are all on sale here. Several stalls will cook food to order. Just tell the cook what you would like, or point at a dish you like the look of and, a couple of minutes later a nice steaming hot plate of it will appear in front of you.
Best Music/Festivals:
Nan's not known for its music scene. Traditional northern Thai music and northern dances can usally be seen and heard at the monthly street market. Some pubs and restraunts also have live music, the singers and bands usually play covers version of Thai rock songs.
From July onwards, the town starts to go boat crazy. Each evening, if you go down to the river you can hear teams of rowers counting from 1-8 as they practise their strokes. By the end of September the area by the river is turned into a giant market and the 1st of the province's famous 'Boat Racing Festival's' begins. Bus loads of locals from the surrounding villages arrive, along with amplifiers, bands, cheerleaders and iceboxes full of beer. After the boats have been blessed and put onto the water, the races begin. The villages take their boat very seriously. The river becomes a sea of colour and raucous cheering accompanies every race.
Nan also celebrates most of the other major Thai festivals and events. Songkran, Thai New Year, a 7 day water war is definitely worth seeing, as is Loi Kratong (the first full moon in November) when, just after sunset people float tiny candle-lit rafts on the river.
Best Nightlife:
Nan's not exactly the nightlife capital of Thailand. Dining by the river (recommended restraunts are the 2 opposite Phu Far coffee shop, gormet or 'the glass house') is a nice
way to spend a warm summer evening.
For live music (classic Thai rocks songs and a couple English cover versions) head to Weerachon pub, or one of the few nighclubs in town, the fifth or channel X.
2 or 3 days a month there's a 'walking' street, an outdoor market selling clothes, souveniers and food. There's usually a cultural show, where people dress in traditional costume and demonstate traditional dancing too.
Best Day Trip out of the City:
The surrounding mountains – any of them. Doi Sameur Dao or Doi Phu Kha for stunning views, Doi Phu Wae for a strenous hike or Doi Tiew for the chance to see how the Hmong people live.
In the rainy season, several tour companies organise 2-3 day white water rafting trips on the Wa river.
Something not many tourists would know about in your City:
Take a trip to Haad Pa Kon village, order food, hire a rafthouse and spend a few hours drifting down the Nan river, swimming, fishing and staring at the scenery.